Lachanopita
Pies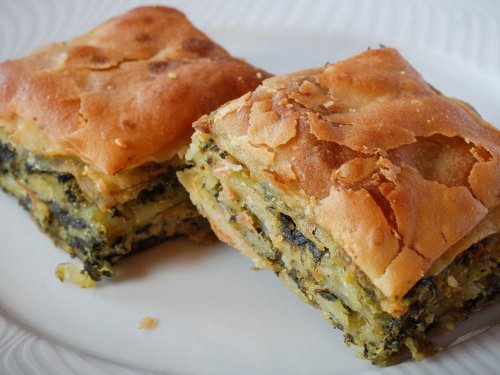 Ingredients for the recipe:
Traditional Zagorisio fillo (6 pie leaves)
2 kg of cabbage (Lapata, fennel, spring onions and other greens of the mountain)
300 gr crumbled feta
5 Eggs
150 gr butter
300 gr corn flour
Salt
Pepper
Recipe Execution:
In a bowl chop all vegetables. Salt and rub until wilted.
Drain and add the cornmeal, eggs, cheese, butter and pepper. Stir well until the mixture becomes uniform.
Unpack 6 pie leaves. In a baking tray, which have previously smeared with butter, put three pie leaves.
Strew on the half filling. Place 1 pie leave again. Strew the rest of the filling. Cover with 2 pie leaves and coat the surface with butter.
Bake the pie in a moderate oven for about 45 minutes.