Galaktompoureko Sweet
Deserts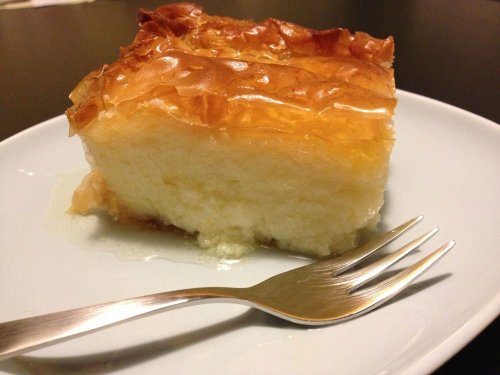 Ingredients for the recipe:
1 packet of Zagorisio pastry puff dough
1 glass of fine semolina
5 glasses of Milk
5 Eggs
1 cup of Sugar
1/2 packet of margarine
2 vanilla
Lemon zest
Recipe Execution:
Butter a medium pan. Lay 1 pastry puff dough and butter (make sure to have left the butter out of the refrigerator). Put half of the pastry puff dough leaves below and the others above, all buttered.
Cream:
Put the milk in a saucepan to heat up with the sugar and lemon zest. Once it starts to boil, add the semolina, butter and vanilla. Once thickens remove from heat and cool slightly after add the beaten eggs.
Spread 5 buttered pastry puff dough leaves, add the cream to cover the remaining buttered pastry puff dough leaves . Incise slightly into portions and sprinkle with some water.
Bake at 180 degrees for about 40-45 minutes. We understand that the cake was baked, when inflated and not stick around the pan.
Ingredients for the syrup:
2 glasses water
3 cups sugar
1 vanilla
Some lemon zest
Boil all ingredients for 5 minutes and pour the galaktomboureko slowly when you get it out of the oven. If desired, sprinkle with almond whitened net.