Pastry Filo
Zagorisio Filo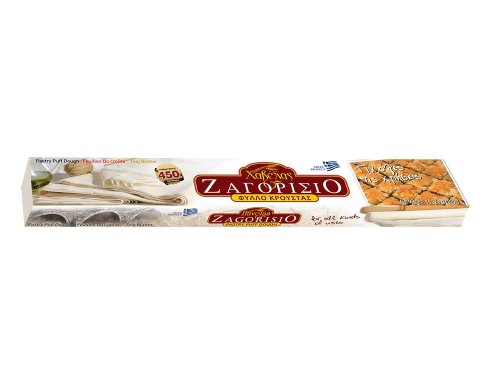 Traditional handmade Pastry puff dough for pies from the finest materials.
Description:
The traditional pastry puff dough is ideal for pies and sweet pastries.
The package includes 6 pieces.
Instructions for use:
Take the pie leaves out of the freezer and defrost them for 2 hours in their packaging.
Ingredients:
Durum and soft Unbleached Wheat flour, corn starch, water, salt, potassium sorbate (preservative).
Nutritional value per 100gr:
Energy 143kcal, Carbohydrates 30gr, Proteins 4gr, Fat 1,3gr.
Preserve Instructions:
In the freezer at -12oC for 1 month.
In the freezer at -18oC until expiration date.
Attention:
Once the product has been defrosted it should not be frosted again.