Chicken pie
Pies-Mini pies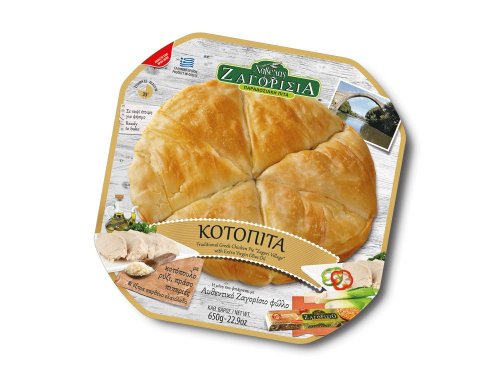 Chicken pie with extra virgin olive oil
Description:
Cooking Instructions:
Remove the pie lid and allow it to thaw.
Preheat your oven to 180oC.
Spray with a little water ,put it in the oven with the paper tray and bake for about 35-40 minutes.
Adjust the cooking time and temperature according to the oven.
The product cannot be cooked in a microwave oven.
Ingredients:
Dough : Wheat flour,water, corn starch, salt.
Filling :Chicken(40%), rice(10%), green pepper (13%), red pepper (13%), gouda cheese (milk  pasteurized, rennet, beta-carotene, calcium chloride, salt) leek(10%), onion, vegetable oil (extra virgin olive oil (7%), sunflower oil), vegetable margarine [vegetable oils (seed oil, sunflower oil) and vegetable fat (palm oil) in varying proportions, water, emulsifiers: mono-and diglycerides of fatty acids], parsley, dill, salt, pepper.
Preserve Instructions:
In the freezer at -12oC for one month.
In the freezer at -18oC until the expiration date.
Attention:
If the product is defrosted should not be frosted again.