Baklava Sweet
Deserts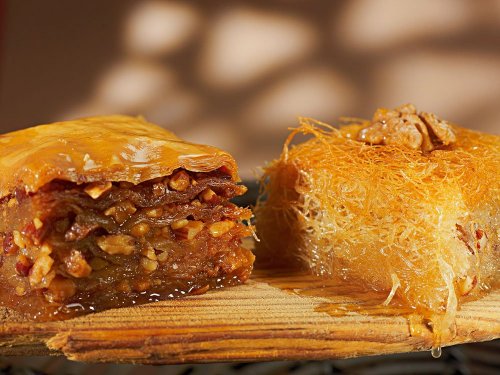 Ingredients for the recipe:
1 package Zagorisio fillo ( pie leaves)
500 g. fresh butter
850-900 g. sugar
2 1/2 cups of water
1 teaspoon of lemon juice
250 g. almond (with peel)
250 g. walnuts
1 tablespoon cinnamon
1/2 teaspoon cloves (crushed)
5 tablespoons icing sugar sifted
2-3 tablespoons breadcrumbs
Recipe Execution:
Chop almonds and walnuts in the blender and mix well with cinnamon, icing and breadcrumbs. Melt the butter over low heat.
Butter a baking dish and lay 4 buttered pie leaves . Spread the fifth pie leave and pour a little of the filling, just enough to cover the surface.
Lay the next pie leave, again pour stuffing and repeat until finished filling. The last four pie leaves, butter and put them without stuffing. Incise deeply the baklava.
Pour enough butter so as to cover the lines and carefully rest on the surface
Bake in preheated oven for 1 hour at 180 degrees.
When the sweet is ready, we make the syrup. Boil sugar and water for about 6 to 8 minutes. Shortly before the end add the lemon juice.
Remove the baklava and let it for 5-10 minutes to cool slightly and then carefully pour the warm syrup.