Copenhagen Sweet
Deserts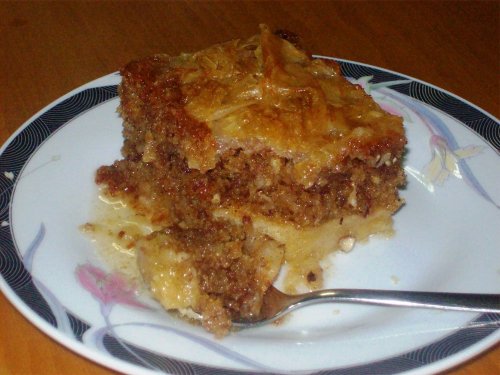 Ingredients for the recipe:
1 1/2 cup margarine
1 cup sugar
5 eggs
1/2 cups brandy
1 cup flour
3 teaspoons baking powder
1 teaspoon powdered cinnamon and clove cooking
1 tbsp fine semolina
1/2 pound peeled and ground almonds
450 g. crust Zagorisio pie leave
4 cups sugar
2 cups water
the juice of 1/2 lemon
some lemon peel
Recipe Execution:
Beat in a bowl 1 cup of the margarine . When fluffy add the sugar, beat the mixture for a few minutes and add one to one eggs. And pour brandy.
Sift the flour with the baking powder, the cinnamon and clove cooking and add the egg mixture and the margarine. Add the semolina , the almonds and mix
Melt the remaining margarine in frying pan and coat one to one the zagorisio pie leaves as pave a pan. Put stuffing in the middle and at the top put the remaining pie leaves.
Incise slightly and bake for 45 minutes at 220 degrees. Put in a saucepan the ingredients for the syrup and cook 10 minutes over medium heat.
Let it cool. Once you put the sweet out from the oven, pour the cold syrup and leave to cool.