Chicken Pie
Pies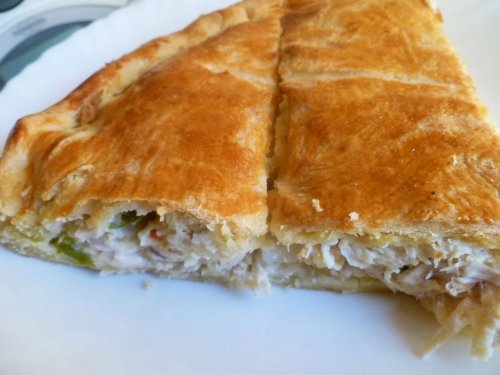 Ingredients for the recipe:
Traditional Zagorisio fillo (6 pie leaves)
1 Chicken
some oil
4 Dried onions
2 Cloves of Garlic
Salt Pepper
4 sprigs parsley
2 clones mint
butter
250gr. Kefalotyri grated
6 Eggs
2 tablespoons Semolina
Recipe Execution:
After cleaning and cut the chicken, fry with oil. Add the grated onions, continuing frying. Then add the remaining ingredients chopped, 3 cups of water and leave them to cook completely.
Lay the pie leaves in the pan and let them fall out of the pan 5-6 cm. Among them coat well melted butter and grated cheese. In the fifth pie leave put the chicken, chopped and boned, and the rest of the cheese
Beat eggs and add the semolina and the broth of chicken (tepid, such as onions, after you have removed the mint and parsley). Stir until it becomes mush, with which cover the meat.
Press the pie leaves and cover with the last one ( buttered). Put the pan on medium heat and let it cook for 45 minutes.
You can also add almond (filling).