Cheese pie
Pies-Mini pies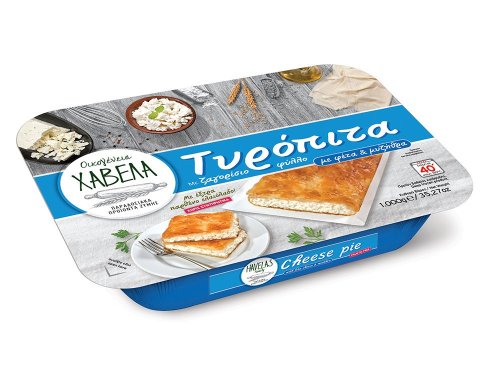 Cheese pie with feta cheese and mizithra
Description:
Baking Instructions:
Remove the pie lid and allow it to thaw.
Preheat the oven to 180oC. Spray with a little water, put it in the oven with the paper tray and bake for about 35-40 minutes. Adjust the cooking time and temperature according to the oven.
Ingredients:
Dough : Wheat flour, water, corn starch, salt
Filling : Feta cheese 25% , (pasteurized sheep and goat milk, rennet, calcium chloride, salt), mizithra (pasteurized sheep and goat whey, pasteurized sheep and goat cream, salt), rice flour, semolina (wheat), vegetable oils (extra virgin olive oil (5%), sunflower oil), cow  butter, salt (milk), white pepper.
Preserve Instructions:
In the freezer at -12oC for one month.
In the freezer at -18oC until the expiration date
Attention:
If the product is defrosted it should not be refrigerated again